Welcome!
Congratulations on your retirement from service to the people of San Francisco. We wish you the best for a long, healthy and happy retirement
The Retired Employees of the City and County of San Francisco (RECCSF) is a membership organization that acts as a representative for its members, dedicated to protecting the benefits we earned during our employment.
What you may not know is that you do not automatically become a member upon retirement. In order to join RECCSF, you can sign up by downloading the application form from the Membership link at left or request one by email from reccsf@att.net; the dues are very affordable. You can also call our office at (415) 681-5949 or send an email to reccsf@att.net to get application information.
By joining RECCSF you assure yourself of receiving the latest information on your pension, healthcare and other retirement benefits and issues that arise concerning those benefits. No matter where you live, you can keep in touch with those of us still in the City. You will receive the monthly "Bulletin" or you can read it online by accessing the "Members Only" section of this website.
I urge you not only to join RECCSF but also to take an active part in our activities. We look forward to seeing you.
Claire Zvanski
President

General membership meetings dates
Feb 14, April 11, June 13, Aug 8, Oct 10, Dec 12 2018.
At Scottish Rite, 2850 19th Ave, San Francisco, CA 94132
E board meeting dates
Jan 16, Feb 20, Mar20, April 17, May 15, June 19, Aug 21, Sept 18, Oct 16, Nov 20 2018. Taraval Police Station, 2345 24th Ave, San Francisco, CA 94116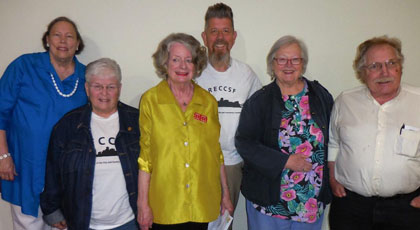 RECCSF
3915 Irving Street
San Francisco, CA 94122-1294
Tel: (415) 681-5949
reccsf@att.net